Keng Seng Co.,Ltd.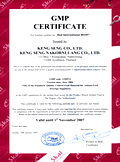 Keng Seng Co., Ltd. is presently running its business as both manufacturer and exporter of tapioca chips/pellet and tapioca residue pellet. In 2011 our potential lied in supplying the high-quality products with the record total amount of exports up to 250,000 tons to satisfy high demand in the markets worldwide. Additionally, Keng Seng Co., Ltd. provides large-scaled warehouses monitored by Keng Seng Warehouse Co., Ltd., a subsidiary of Keng Seng Group. Our ample warehouses can be loaded with the maximum storage capacity of 300,000 tons. We also offer our own ports where approximate 3,500 tons of goods/day can be shipped at high speed on the spacious barges.
Keng Seng Co., Ltd. has factories in possession superbly located in Phra Nakhon Si Ayutthaya. Our modern factories can carefully and heavily source raw materials with a direct access to the harvested sources which are our extensive networks in the Central and Northeast of Thailand. Our factories are located at suitable spots, well-equipped and accredited by GMP and HACCP standardizations to bring great benefits to our customers.
It can be clearly seen that our company is a manufacturing company with a total and integrated manufacturing system, ranging from full-length provision of raw materials to standardized exportation. Therefore, our customers are able to obtain goods in prompt, high qualified, confident and trustworthy delivery.